An event, whether it be a convention, an inauguration, or a sport event, demands a careful planning of all its aspects to be a success. .
The strength of Vector is to have a big amount of materials and expert and qualified personnel to face all the needs of its clients. This availability allows Vector to quickly respond to any unexpected event, even during the event itself.
A team of engineers and professionals will assist you during the realization of your projects to guarantee that your event has the desired result. Our specialists will also take care of calculations and technical tests that are needed to ensure the maximum safety of the structures and their correspondence to the current regulations.
Covering structures and stages
Our technical office offers you ad hoc planning of covering structures, stages, and other types of metal load-bearing structures. Whether it be a structure that supports a banner, an entrance portal, or the external covering of an exposition booth, our engineers will carry out the static calculations to ensure the structure safety and the compliance with the current regulations regarding wind and snow loads.
During the years, Vector has specialized in the use of multidirectional scaffolding for the realization of non-standard structures. This innovative use of scaffolding allows our clients to add a great visual impact to theirs events.
Vector also offers a service of annual inspection of your structures according to the current regulations (D.Lgs. 81/2008)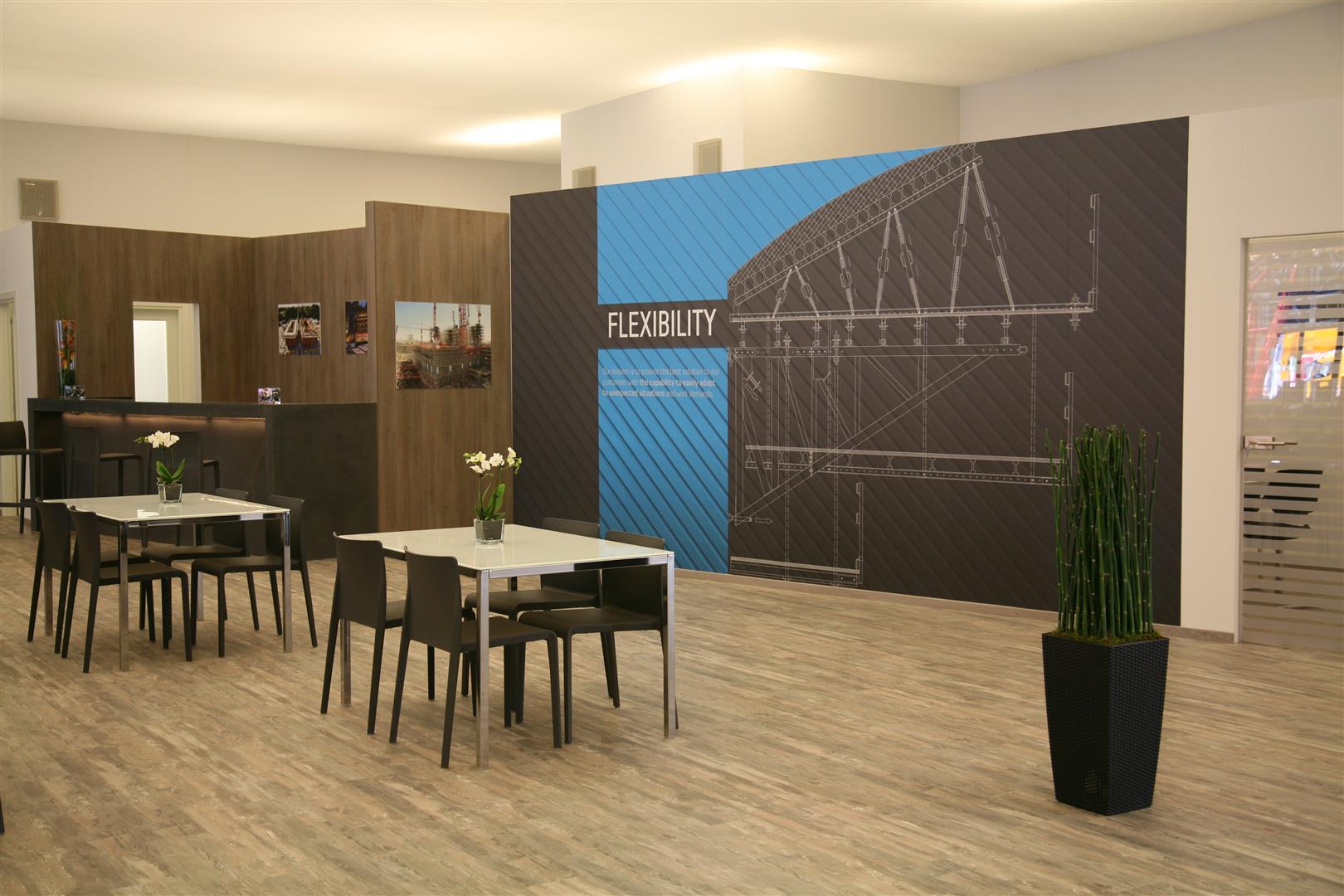 Indoor design
Our team will suggest you different solutions to create the desired atmosphere inside the different structures. We will guide you in the choice of the more appropriate materials to use as wall covering, flooring, and false ceiling highlighting the aspects of safety supplying certified fire-resistant materials according to the current regulations.
We will offer you a broad selection of furniture and accessories to perfect your set up in every details, up to the positioning of plants and flowers and the application of pictures and artworks on the walls.
The topic of events' security has become very thorny in the last few years. For this reason, our company offers control systems with metal detectors and X-rays run by highly qualified personnel to guarantee the greatest security and, in the meantime, the needed discretion. Our systems use the most modern technology also employed in the biggest airports and in sensitive locations.
RENTAL
Our warehouse has more than 50.000 sq m of uncovered area and 4.000 sq m of covered area, and it contains thousands of articles ready to be rented, such as:
Struttures
Double-pitched structures

Wooden and plastic flooring

Wall panels (wood, fabric…)
Furniture and accessories
VEHICLES
We make available to you our wide special-use vehicle fleet. They can be used for promotional tours, as hospitality during events, or as mobile offices and ticket booths. Among our vehicles, we can include two vintage English double-decker buses and different size expandable vehicles to face your needs.
Moreover, Vector has its own specialized workshop that is able to realized and/or modified different vehicles for every occasion and need.
ELECTRICAL GENERATORS, ELECTRICAL SYSTEMS, AND AIR CONDITIONING
The team of electricians is equipped to face different demands making available electrical generators with various power, km of cables, switchboards, chillers, and heaters. In this way, even an event set up in the middle of the countryside can take place with all the comfort one can find in a convention center.